Sculpture:
[Below:]Rubbish (2007) metal bin, paper; dimensions variable
[Below:] Piece designed for Jigsaw Appeal 2006. Untitled (2006) wooden frame, photograph, printed card; dimensions variable
[Below:] Clay model made during a life-class. Untitled (woman) (2006) clay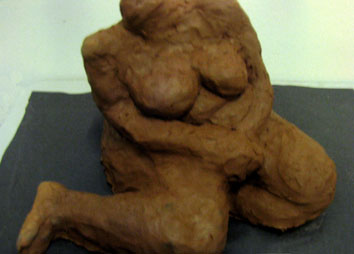 [Below:] Self-Portrait (2005) sellotape; dimensions variable
Sellotape is an everyday and sometimes taken for granted material. Its adhesive quality exists to allow it to attach things together and to forge a literal connection between one surface and another, unifying two sometimes disparate objects into a unified whole. The material is both transparent, offering possibilities for invisibility and visibility, but like human beings is just as susceptible to change through time. It can age just as we do, it is as temporary as we are: it can lose its stickiness (its function) and becomes discoloured and brittle. If exposed, it can attract dust and become opaque over time.
This conceptually challenging work investigates themes of the body and the self by exploring space and using mundane everyday materials. The piece refers to notions of boundaries and the relationship between internal and external spaces. The process of making here echoes a methodical and obsessive tendency. The process itself will reference ideas of self-preservation by creating a web or barrier.

[Below:] Untitled (clay head) (2004) acrylic on clay; dimensions variable